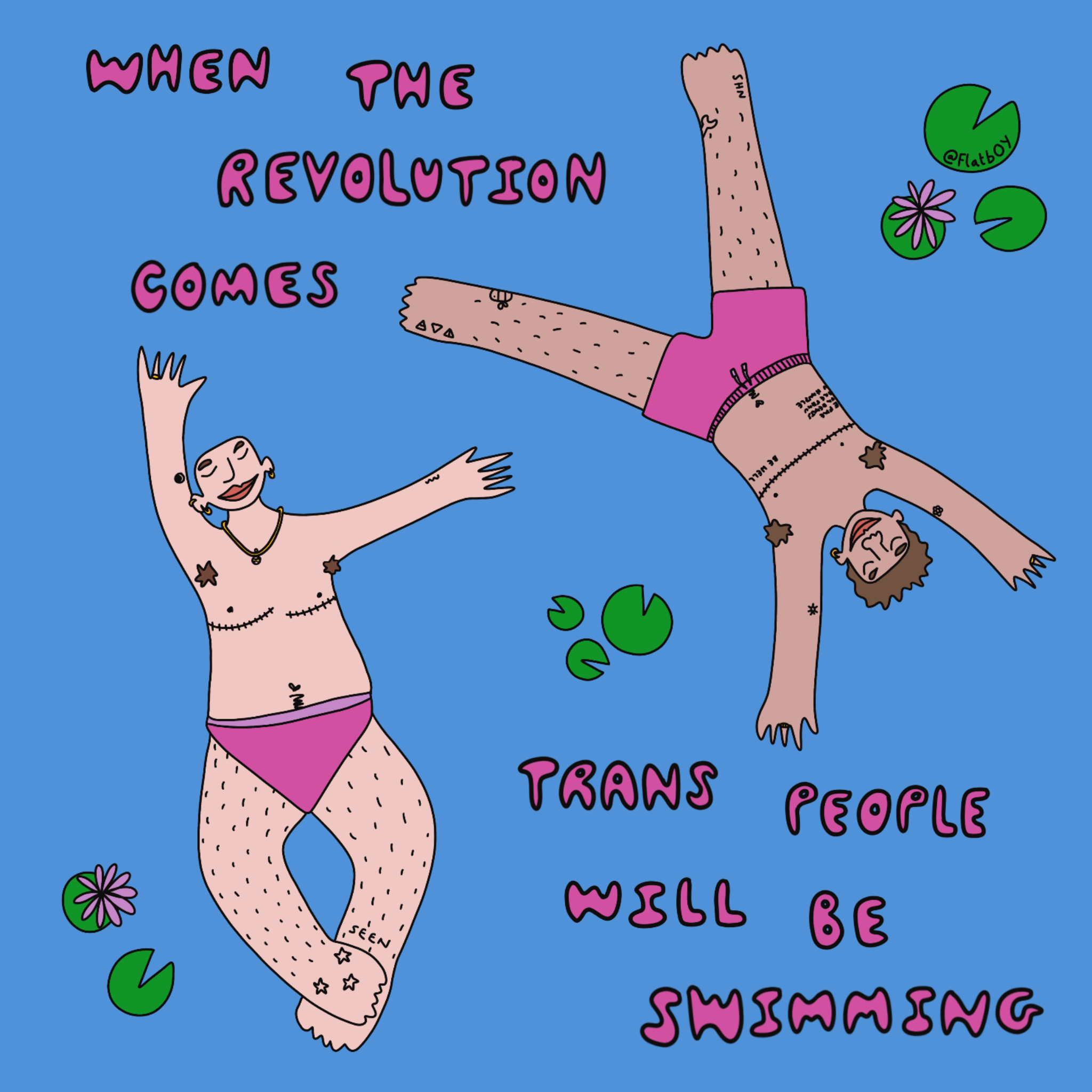 Seren Thomas created Flatboy at the beginning of the pandemic as a way of managing their own gender dysphoria and poor mental health in a time when they were isolated from their queer and trans community. Drawing trans bodies and souls in joyful, peaceful and positive states - in a time when the magical things about being trans are so rarely acknowledged in public life - helped them feel closer to the trans and non-binary people they missed so much.
Their digital and physical paintings depict trans and gender non-conforming bodies and souls in their most vulnerable and elatory moments. Different projects often focus on different emotions, such as softness, joy, wonder, intimacy and peace. In all their pieces Flatboy attempts to capture the connections between trans people, and the sense of deep, unbreakable love that flows through the community.
Flatboy uses a number of mediums, including simple black and white sketches, collage, paint pen on large foam boards, and digital art. Their style is bold, focusing on people rather than the things around them. Their work reflects the huge diversity of the trans community, depicting bodies of different shapes and sizes.
The majority of their work revolves around giving back to the trans community. They make personalised commissions that depict individuals at their most euphoric. One of their favourite creations is a range of top surgery congratulations cards. In 2021, they created a complementary piece of art for non-binary writer Valentine Darling's 'My Gender Story' which portrayed Valentine reuiniting with their younger self. This winter, they co-ran Transgiving, a scheme sending winter care packages containing trans art and care products to trans and non-binary people.